What is an Asset Register? How To Start Tracking Your Assets + Free Template

What is an asset register?
To put it simply, an asset register is a document or system that is used to keep track of an organisations physical items or resources.
For a small business for example, an asset register could be used to track items like tools, machinery, inventory items, IT equipment or furniture.
Having a central register allows you to store information about each individual asset, such as, a description of the item, the item location, or the date of purchase. There are many different fields you can include depending on the type of asset you are tracking.
---
How to create an asset register or asset tracking system:
There are a couple of different approaches you can take to asset tracking, depending on things like the size of your business, and what data you want to access and store on each of your assets.
Getting started with asset tracking
A simple approach would be to start with a basic software or spreadsheet template to store all the information for each asset. You would need something like our Pre Printed Barcode or Pre Printed QR Code Asset Labels - these would be applied to each of your assets, so you can easily scan each item and bring up the relevant information.
For more in depth reporting and tracking
If you want to take your asset register a step further, this is when you would start to look at asset management software. While software performs a similar function to a basic register template, it is also able to assist you with more complex reporting, maintenance scheduling for your items, and managing the life cycle of your assets.
This is when you use a product like our Customised Asset Labels. We can create the labels to be compltely customised to your needs. Include your company logo and details, as well as adding in barcodes, QR codes or sequential numbering.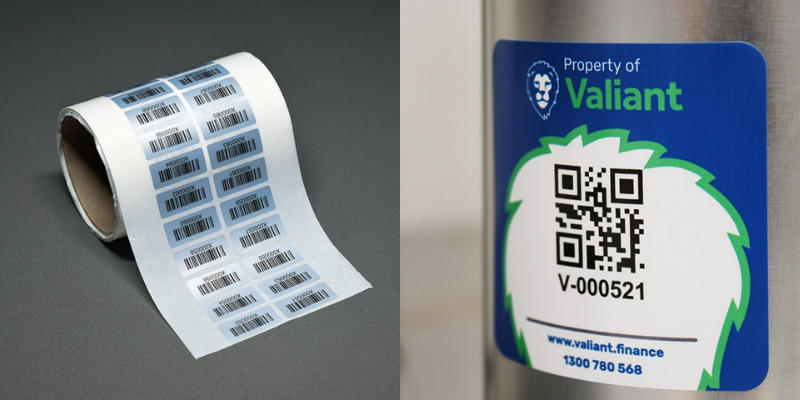 An example of our Pre Printed Barcode Asset Labels and a Customised Asset Label created for Valiant Finance
---
Your asset register template & checklist
Here at EXELPrint, our speciality is printing the labels you'll need to track your assets effectively. We manufacture labels that can be completely customised to suit to your unique application, and the environment or industry the labels will be used in. Here's a quick overview of the other elements you'll need:
Items For Tracking

Tracking Spreadsheet OR Asset Management Software

Scanning Equipment/Capability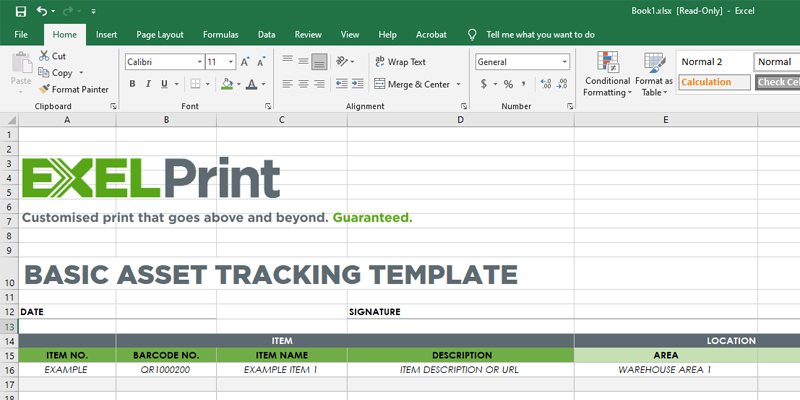 ---