Custom Label and Tag Options
Tags and labels, unique to you.
We cater to a wide range of requests, and no application is too tricky. Here are just some of the options and features we offer so you can customise your product to suit your needs.
---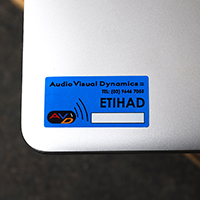 INDOOR
We manufacture custom indoor products to stand the test of time. If you require a high quality, multi-use product, this custom option is for you.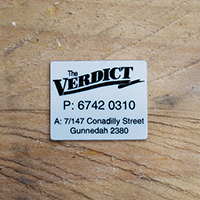 OUTDOOR
Outdoor labels and tags are created to be the next level of durability and toughness. These products will easily withstand extreme temperatures and environments, without fading, tearing or falling off.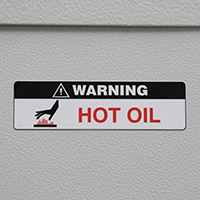 HEATPROOF
We use a specialised synthetic material to create heatproof products. For products that need to have high temperature resistance, for example, labels in a commercial kitchen, heatproofing is an ideal custom option.

CONSTRUCTION & MINING
Products that will be used in the Construction or Mining industries need to be resistant to a number of different factors. If you require labels or tags that will be used in these industries, we can customise them to ensure they meet the specifications.

STRENGTH
There are many different features that can added to products to increase their strength. We have a variety of extra strong materials we can print on, or for some products like custom test tags, we can add clear flap to protect your information.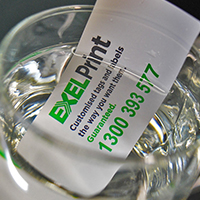 WATERPROOF
Protect your products from all kind of liquids or water with waterproofing. We use a specialised high quality waterproof stock, to ensure your labels will last in a range of wet environments.


ADD LOGO
The ultimate custom option. Make your products completely unique while also showcasing your brand. We can add custom logos to most products in many different sizes.

BUDGET PAPER
Affordability is an import aspect of any purchase, that's why we provide a range of different papers and printing materials to suit all budgets.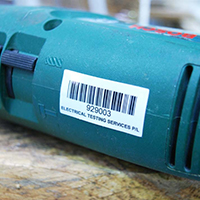 BARCODE
Keep track of your important assets or equipment by adding Barcodes to your custom products. They can be created in many different shapes and sizes, and we can number them however you would like. Simply let us know how many and what number to start at.


QR CODE
QR Labels utilise the latest technology by using 2-dimensional codes that be scanned on your Smart Device. It can either be used as a marketing tool for your customers (taking them to a link you've supplied), or for internal use within a company, such as creating an asset register.

FULL COLOUR
We use the most advanced digital inkjet printing technologies, so you can be confident we can produce any colour or shade you may require.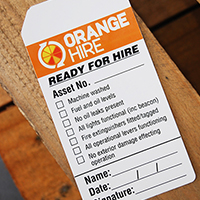 VARIABLE DATA
You can choose the information you would like included on your tags and labels. With the variable data option, you can include slogans, checklists or custom fields for different information just to name a few. The choice is yours.


CHEMICAL RESISTANCE
Chemical resistance is an ideal option for labels or tags that will be in a factory or workshop where oils, lubricants or other hazardous substances are used. We use speciality materials and adhesives to ensure your products never fall off or deteriorate.