Self Laminating Labels Explained
Self laminating labels and stickers are predominately used by people who need their written information on a label to be properly protected. It achieves this by using a specially designed laminate that goes over the label that seals in the written information.
In addition to protecting the written information from someone altering or tampering with it, it also helps defend it against chemicals, moisture, water and any other kind external damage.
Who uses self laminating labels?
Typically, the type of industries that are commonly leveraging self laminating labels are people from manufacturing, automotive, electrical and mining – all of which could be classified as harsh environments and therefore require that extra level of protection and safety. Likewise, they are commonly used as wrap around cable and wire labels.
It appears a common theme in how they are being used boils down to compliance-based jobs where a persons name or date needs to be recorded on the label.
How do you use Self Laminating Labels correctly?
The first step is to write your information on the label, which could anything from a particular date, a person's name or asset number. We find that it's usually best to use a black fine felt tip pen that is designed to write on plastic surfaces.
Once you're happy with the text, it's time to seal your label. Simply pull off the cover and pull down the laminated security flap over the protected information. Our unique synthetic clear laminate has been specially formulated over many years and is guaranteed to stand the test of time. It's worth noting that self laminating sheets and pouches are different to these type of self laminating labels we're discussing – they don't have anywhere near the same level of protection or strength.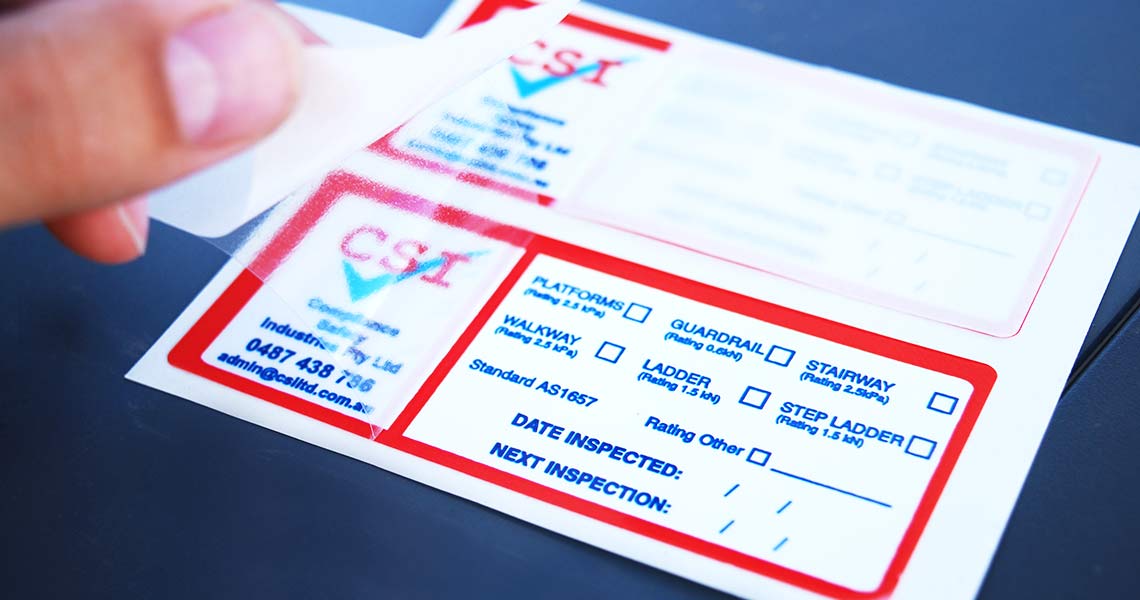 How can you customise self laminating labels?
Because there are so many ways to utilise these labels, the custom options available to you is huge.
Most commonly, because the kind of people wanting these labels work in industrial type industries, the label needs to be able to withstand that particular environment at a minimum. This may also include being temperature resistant to extreme heat and cold, waterproof design and resistance to chemicals and oils.
But you'll be able to customise extra elements as well, such as:

Including a barcode or QR code
The size and shape of the sticker
The protective seal to be made from PVC, PET or PPE
Full colour digital print
Variable data on the label
Your company logo and full branding
If you're interested in customising self laminating labels for your specific use, speak to us today and we'll be able to create a solution to match your particular requirements.