RGBY System: Lifting Equipment Inspection Tags Colour Code
In order to operate safely, all lifting, rigging and hoisting equipment must be inspected and tagged periodically throughout the year. These inspections should be performed every 3 months, and the tags that are placed on the equipment represent which quarter of the year the test was performed in.
This is commonly referred to as the RGBY tag system, with each letter representing the colour of the tag. Industries that are considered harsher will generally use this method, such as construction and mining.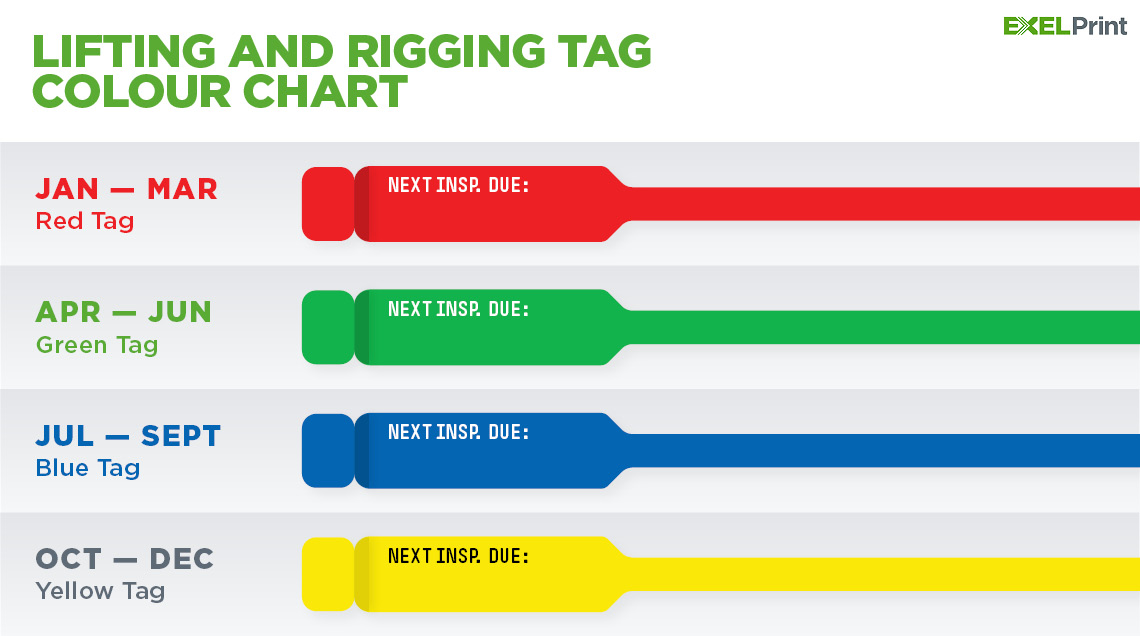 Watch our explanation video
What equipment needs to be tagged?
There is a whole range of lifting equipment that must be inspected and tagged, for example - harnesses, lanyards, shackles, wire rope and lifting chains and slings. We recommend checking with the Lifting Equipment Engineers Association (LEEA) for a full list of gear that requires inspection, and the relevant Australian Standards.

What's on the lifting and rigging inspection tag?
The most commonly used lifting and rigging tags would be something like our Next Inspection Due Tag, which comes in the quarterly inspection colours of red, green, blue and yellow and includes a space to record the date of when the equipment requires inspection next.
These inspection tags can also be customised to suit your particular industry or needs - you can include options like pre-printed data and sequential numbers to aid with record keeping, or add a barcode or QR code to store more complex information without taking up too much space on the tag itself. View Custom Lifting & Rigging Tags.

---